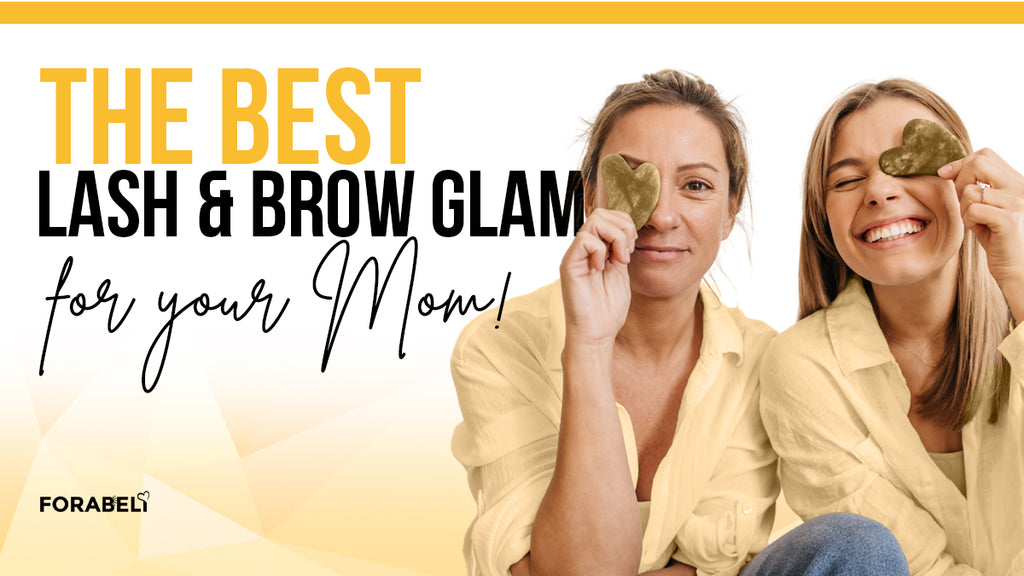 Mothers put in long hours of work every day. Some are stay-at-home moms, while others work full-time or juggle several jobs, some are single mothers, and some are partner moms.
Whatever makes a mom busy, she deserves a treat on Mother's Day! Our super moms, though so occupied in either chosen profession or taking care of the family, must take a break for quite some time and have a little bit of well-deserved pampering. It's called the "me time", an opportunity to reduce stress and restore much-needed energy. 
A lash glam is a once-in-a-lifetime experience that will leave moms with a special feeling and one that she will always remember a hundred percent.
When we talk about beauty, age doesn't matter. Beauty is timeless. That is why there are bespoke lash and brow services offered that caters to every mom's needs.
Lash and brow pampering is not at all exclusively for youngsters. It turns out, these aesthetic services are also for mature women which are now growing more popular, with more and more women in their 50s and above getting their first lash set ever.
The amazing lash artists have spoken! Here are some moms that they have transformed and regained beauty through various lash and brow care services. 
Let's take a look!
LASH AND BROW TINT? WHAT'S IN IT?
Tinting is the technique of dyeing the eyelashes with a safe, semi-permanent vegetable dye. This is done to make the dull lashes appear longer and fuller as well as darker.
Lash tints are a perfect medium between mascara and eyelash extensions, giving the eyelashes a stronger, wide-eyed look for a reasonably inexpensive price and with very little needed upkeeping. Because the technique involves the application of dyes in the entire strand of lashes from the base to the tip, it can also make them appear longer and fuller.
Eyebrow tinting is a semi-permanent dye application that enhances, shapes, and defines brows. Brow tinting creates the illusion of larger, more defined brows, with the goal of matching the natural brow color as closely as possible.
The brow and lash glam are ideal for recreating mom's wedding pose in front of the camera, either anniversary dates, or for attending special gatherings.
If your mom has naturally light brows and eyelashes, tinting will likely make the biggest difference!
Planning to get these services? We believe that only twilightzonebeauty can pull a fantastic service like this! Book your services now via her Instagram!
Once the lashes and brows are up, your mom will surely shine through!
LIGHT IS RIGHT AND WORTH THE SIGHT!
Hybrid lash extensions, often known as "Light Volume," are exactly what they sound like. Two styles combined (or hybridized). Hybrid lash extensions are a combination of conventional lashes and volume lashes.
This look is ideal for moms who desire a fuller look than classics but aren't convinced by volume lash extensions' bold and dark appearance. There is no optimal hybrid lash ratio but the final look is definitely gorgeous from the inner to the outer eye corner.
These lashes are ideal for a seductive wink drama while romantically dancing to sweet music or relaxing holding hands while strolling by the lake, pond, or river and feeding the ducks, people-watch, or gazing at the sunset with a special loved one. Lovely isn't it?
Do you want to have an alluring look like these? We believe Illusion Lashes by Mel is the expert in this field! Contact her through Facebook!
With these lashes, the words are restrained and the eyes often communicate a sensible message!
Mega Volume lash extensions are lighter than a feather, lusciously fluffy, and silky as fairy floss. This type of lash extension uses larger volume fans and finer lashes to provide maximum lash density while preserving a more natural look.
The goal of volume lashes is to achieve rich, thick lashes. While this type of lashes don't add as much length as traditional lashes, it can transform sparse natural lashes into a wonderful fuller look.
These lashes are ideal for a momma's dinner at a quiet, quaint ambiance restaurant, paired with a good bottle of wine and a bunch of red roses. Make the moment extra special! Dress up for a romantic night. 
Do you love this kind of look? Check out Skylashes on Facebook! She'll be so accommodating to give your mom such a lash makeover!
Beyond those beautiful eyes lies little intimate secrets, reveal it with these charming lashes!
LASHES ARE A STAPLE FOR HOLLYWOOD MOMS!
For these moms, lashes are the attractive power of perfection! Here are some Hollywood moms that believe that beauty is a way of life by constantly putting on some pretty lashes and it looks so good on them that it makes their career more prolific throughout the years!
THE 'MOMAGER', KRIS JENNER
The 66-year-old "momager" and Kardashian-Jenner head of the household slash matriarch has devoted all of herself to raising her phenomenal family and made a lot of efforts to uplift the standard of beauty. 
Over the years, she has mastered and maintained her fascinating and glowing aura by keeping her trendy pixie cut (edgy or sleek), choosing the right smokey eye palette, and nearly or always a nude lip shade. She hasn't much veered from her signature look on every occasion but surprises us all with a fun and new hairstyling or lip color when we least expect it.
For Kris, beauty is an empire! Her talk of the town "skin care routines" are ready to go with her own line of beauty essentials. Her most awaited bigger brand to hit the shelf are applications consisting of shampoo and conditioner, as well as cleansing solutions, moisturizers, and toners for the skin, as well as nail polish, false eyelashes and themed makeup. Aside from that, she manages her daughter's beauty brands.  With her aesthetics, it seems that defying aging is always part of keeping up with the Kardashians!
THE COURTROOM BEAUTY, AMAL CLOONEY
The 44-year-old  Lebanese human rights lawyer and wife of Hollywood actor George Clooney, Amal Clooney, is a mom to twins, Alexander and Ella. Amal and George tied the knot in 2014. This courtroom beauty was also chosen as one of Time Magazine's Women of the Year 2022.
Amal has perfected the art of making business and red carpet attire finely appealing. She was seen many times in between work meetings in outfits that were always appropriate for business occasions. Simple yet dashing lashes, strokes of black eyeliner, pink matte lipstick, dark hair swept to the side, and chandelier style earrings are her combinations to achieve an old Hollywood vibe making it her signature look for her red carpet soirees with husband George.
Woman of substance with classic elegance, that's Amal's rule in life!
HOLLYWOOD AND HUMANITARIAN DEARY, ANGELINA JOLIE
The 47 year old multi-award winning actress-filmmaker Angelina Jolie is known for her acting prowess and at the same time humanitarian works. She has been called Hollywood's highest-paid and most sought after actress and has won numerous accolades, including an Academy Award and three Golden Globe Awards. Angelina doesn't settle for anything yet for she works continuously on various advocacies in different parts of the world.
Angelina has inspired her avid fans to embrace the thin eyebrows, master cat-eye eyelashes and liner, and skip multi-color eyeshadow palette looks for something simpler and smokier than ever before. For a trademark look that lasts throughout the years, remember the name, Angelina Jolie!

HOW TO CARE FOR YOUR LASHES AND PREVENT ITS AGING?
Moms are exceptional in taking care of their lovely children, what more of her own lash extensions? 
Fight the aging of the lash extensions by simply following these easy steps. With this, the lashes could last up to eight weeks with utmost care. Take note of these vital steps in order to reach the full potential of the eyelash extensions. Save or print this out in a paper and send it to your mom in order for her to get reminded of the proper lash care.
FINAL THOUGHTS
In general, the greatest lash and brow styles for women are those that look natural and open up the eyes dramatically. 
For first timer moms, there might be hesitations but from start to finish, practically everyone finds the process to be completely painless. The procedure surprisingly improves the appearance of the eyes and it is agreeable that looks great on everyone.  By adding volume to the natural lash line and tint to the brows, the totality of the process can lift the face and make people look younger. The clients may enjoy the final look as it can make lashes appear longer and younger-looking without the need for mascara. Clients will beautifully wake up every day with long, fluttering, stunning lashes giving a more awake and younger appearance.
Long, thick eyelashes are prized by social beauty standards, and with lash and brow pampering, anyone can improve their natural beauty without the help of makeup or other cosmetic products.
That being said, Audrey Hepburn sums it up with these words; "the beauty of a woman must be seen from her eyes because that is the path to her heart and the way to the realm where she resides".
DRIVE US CRAZY WITH YOUR WILD IDEAS!
Oh by the way, did we forget something to add to this beauty list? Share your thoughts, reactions, and suggestions. 
Do you have a suggested topic that you would like to be featured on our next blog? Share what you have in mind! We love entertaining healthy conversations. Pop up a convo by typing a comment down below!