Diamond Clear Eyelash Extension Glue
Forabeli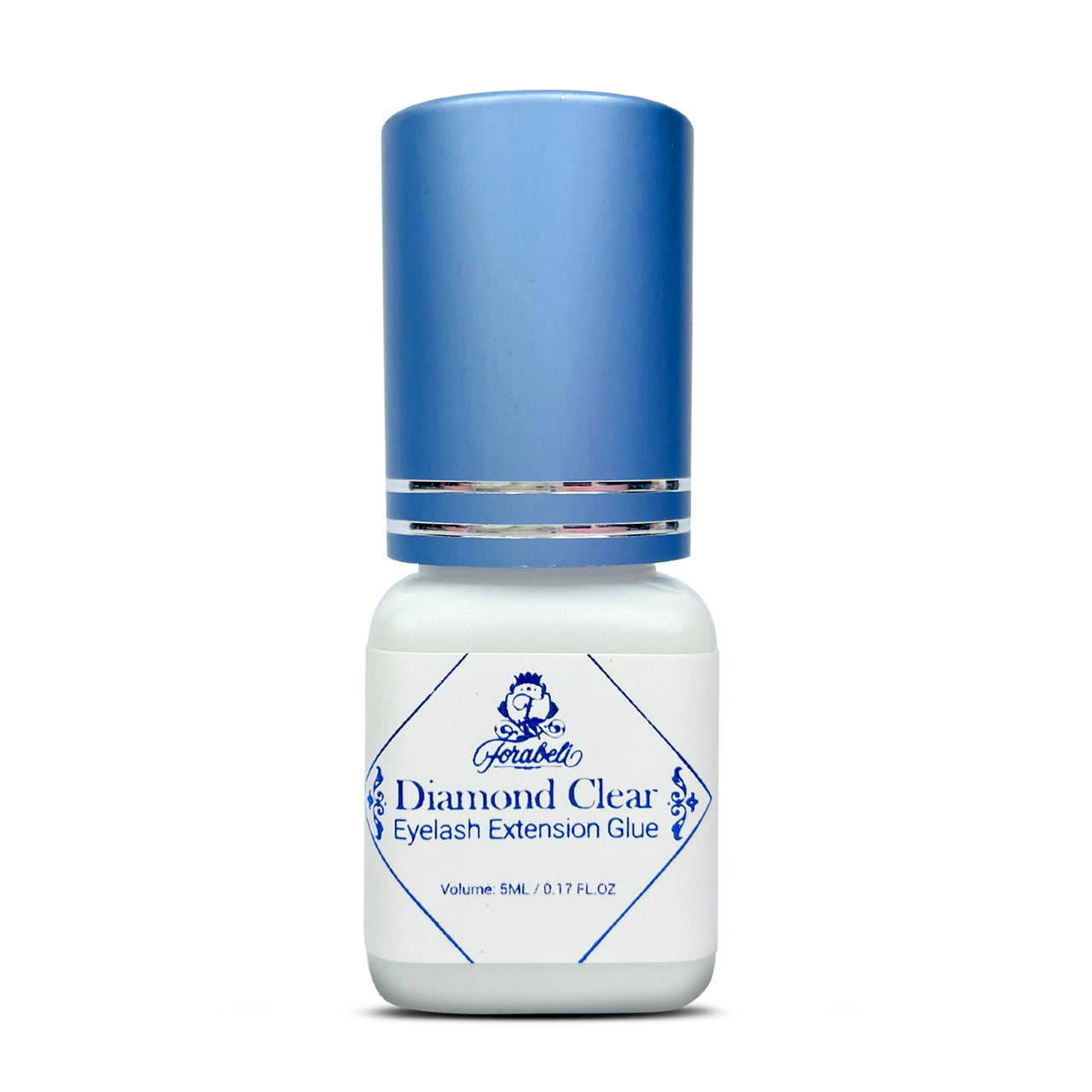 Features
Transparent And VersatileDiamond Clear Eyelash Extension Glue is for different styling of eyelash extensions, suitable for natural black, brown or colored lashes.
Seamless And Quick-DryingDiamond Clear Eyelash Extension Glue is composed of a light liquid consistency with a moderate curing time of 2-3 seconds. It blends effortlessly with natural lashes./li>
Extra Strong RetentionDiamond Clear Eyelash Extension Glue has a glue composition that remains intact up to 6 weeks! It is flexible to use with individual extensions or making fans. Works best at 40-70% RH and 21-23 °C (70-73 °F).
Carbon Black FreeThe absence of black pigment in Diamond Clear Eyelash Extension Glue reduces irritation which is highly suitable for clients with sensitive eyes.
Formaldehyde-Free And LatexOur Diamond Clear Eyelash Extension Glue has been tested and approved to standard ISO 9001:2015, ISO 14001:2015, and ITQA approved. It complies with hazardous product safety standards stipulated by the law on the Registration and Evaluation of Chemicals by S.I. C-A08B-D00030001-A170.
Customer Reviews
Go to for colored lash extensions
This is my go to for my carbon sensitive clients and my colored lash extension days. I do wish she lasted as long as the elite glue, but she's a close runner up.
12/03/2022
LaVonne C.

Canada
Good glue
This is my go to glue , low fumes and good retention
11/22/2022
Jackie G.

United States
Best Retention Ever!
This glue has been an absolute game changer for me! Before this glue , my clients would return every 2 weeks and now they are returning every 3 weeks with amazing retention! I first bought it to use as a sensitive glue for my sensitive clients, but now I use it on all my clients because the retention is sooo goooood! Will be repurchasing and definitely recommend!!
10/05/2022
Gabriela Z.

United States
My go to
I love this adhesive so much, has given me the best retention. And I tried all adhesives. Even expensive $75 ones
09/30/2022
Roxana M.

United States
Love it
Easy to use!! Love this glue