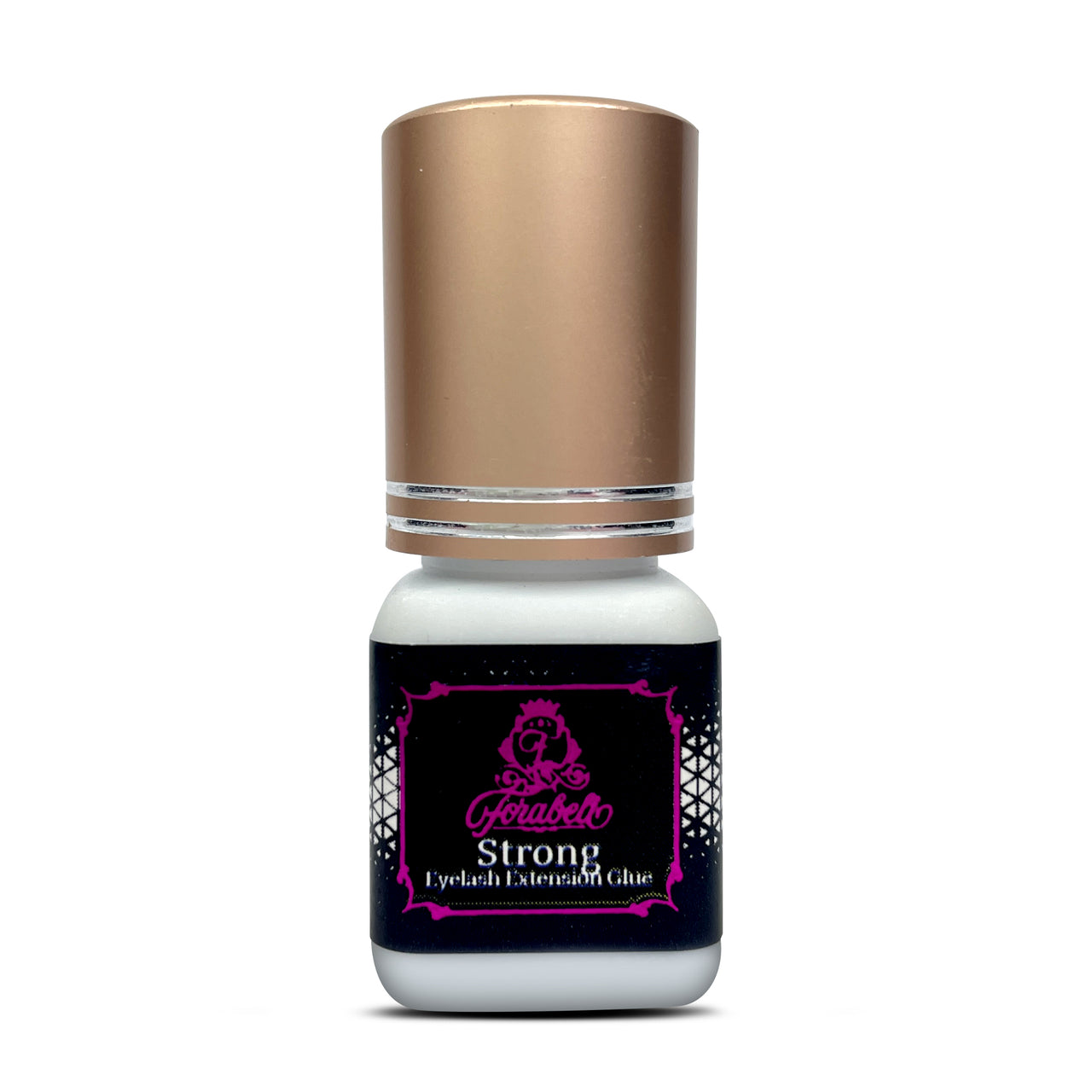 Features
Beginner And IntermediateStrong Eyelash Extension Glue Forabeli is ideal for beginners/ intermediate level professional eyelash extensions artists who have recently joined the lash industry. Although takes slightly longer to dry than the PRO CARE glue, it is advantageous for the new lash artist to have sufficient time to isolate and apply eyelash extensions to the natural lashes.
Extra Strength FormulaStrong Eyelash Extension Glue Forabeli has a quick drying time of around 2-3 seconds, bonding lasts up to 6 weeks with proper application and aftercare. Strong Eyelash Extension Glue Forabeli works best at 40-70% RH and temperature between 70-74F° (21-23C°)
Volume And ClassicStrong Eyelash Extension Glue Forabeli is designed specifically for lash technicians doing the new, classic, and dramatic volumizing full lash technique in 2D, 3D, and 4D. This adhesive will bond the fans closely for the perfect easy application. Best used for Individual eyelash extensions.
Formaldehyde-Free And LatexStrong Eyelash Extension Glue Forabeli have been tested and approved to standard ISO 9001:2015, ISO 14001:2015, and ITQA approved. It complies with hazardous product safety standards stipulated by the law on the Registration and Evaluation of Chemicals by S.I. C-A08B-D00030001-A170.
Customer Reviews
03/01/2023
Mckenna G.

United States
Love it so far!
My retention has been amazing with this glue so far! I've tried a lot of glues before but this one works the best for me! Great for beginners! Only 20$ too.
10/24/2022
Tyana D.

United States
LOVE!
This glue is great! I still consider myself a beginner so I was a bit nervous trying this glue, but it works perfectly for me! Also my basement humidity fluctuates a lot, but that was not an issue with this glue. Retention is AMAZING, my girls last 3 weeks full with this glue ! LOVE IT
09/30/2022
Roxy

United States
Love ittt
I love this glue been using it for about a month!
06/09/2022
Marie-Chantal M.

Canada
Nice product
It makes a really good job!
03/02/2021
Nada L.

United States
Good starter glue!
The quality of this glue is very good! Perfect for me, slow drying time and the retention is awesome. Will buy again :)