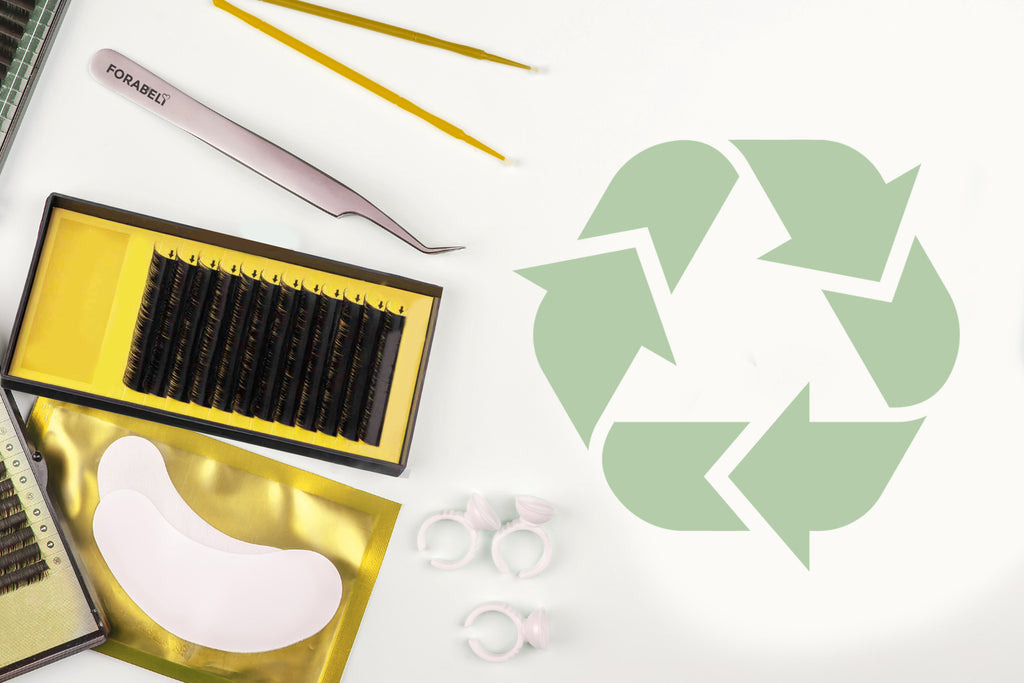 Sustainability, in all facets of human activity, has been a long-time advocacy of the generation. The beauty industry is not exempted in this long-time quest. Being able to contribute, even in small, simple but consistent ways in protecting and maintaining the beauty of our planet is a responsibility that should be carried out religiously. After all, what good is an industry that enhances one's beauty if it damages other's. 
As a responsible lash artist and business owner, proper waste management should have been long implemented in your establishment. Eyelash extension supplies, their packaging, and the chemically- contaminated glue rings and glue bottles are just a few of the wastes you generate and should be mindful when disposing. 
TYPES OF WASTE GENERATED IN AN EYELASH EXTENSION SERVICE
Like everything else, beauty products, from packaging to chemically contaminated materials, pollute the environment. The identity and characteristics of each kind of wastes signify varying methods of proper disposal. Here are the two categories of lash salon wastes that you may generate:
Clinical Waste
Clinical waste is a phrase used to describe trash generated by healthcare and related activities
that may be dangerous, such as pharmaceuticals, or may offer an infection risk, such as swabs, bandages, dressings, etc.
Clinical waste can also be those waste contaminated with body fluids which in the case of lash extension application are used eye pads, cotton buds and PPE gloves.
General Waste 
General wastes are wastes that are not infectious but cannot be recycled. Examples of this kind of waste generated from an eyelash extension service are beauty products packaging, used and worn- out glue rings, glue bottles and waste false lashes. 
REPURPOSE AND REUSE
Repurposing and reusing are far greater principles than proper waste management simply because what waste is there to manage if things didn't go to waste in the first place. 
You can reduce the volume of your waste and save money for the things you did not have to buy anymore because you made use of the available. So here are some repurposing and reusing ideas.
Shipping boxes of eyelash extension products you recently purchased in bulk can be repurposed to being organizers for your other lash salon essentials.

Damaged

tweezers

are made of metal and can be recycled. 

Empty lash trays can be repurposed into aftercare packs wherein you can put freebies for your lash clients such as an aftercare guide, a lash brush and your business card.

If your lash salon offers complimentary drinks or snacks, refrain from using disposable utensils and choose reusable ones. 
WASTE MANAGEMENT IN EYELASH EXTENSION BUSINESS
As a lash technician, you may think that the volume of waste your service generates on a daily basis is nothing compared to those gigantic salons. But keep in mind that progress and efficiency is not measured against how well you performed over others, but it is always how better you've become against your past self.  And that includes your skills in running your business and your commitment to sustainable means of lashing.  
So, we tabulated the ways in proper waste management you can implement easily.
      1. Lash extension glue bottles and glue rings
Before disposing into the waste bins, lash extension glue bottles and glue rings must be cleaned of glue contamination. To do this, use water to polymerize glue and separate it from its container. Never use cotton to wipe off glue as it is exothermic and may burn the cotton.  
The solidified glue goes into a hazardous waste bin while the empty, clean glue bottles and glue rings can be placed in a bin intended for nonbiodegradable waste
      2.Other Chemicals in the Lash Salon
There are other chemical products, aside from adhesives, that are being used in a lash extension service in a daily basis such as lash primers, lash adhesives removers, lash shampoo and cleansers and superbonders- all of which contain different types of chemical that are potentially hazardous to the environment. 
The rules in your state govern how chemical waste should be disposed of in a salon. Generally speaking, it's best to keep chemical waste and empty containers in a well-ventilated, spark-free space to avoid reactions, property damage, and health problems.
       3. False Lashes
While not so many consider this, false lashes that have fall off could be reused to their original function when they are just thoroughly cleaned. If it can no longer be reused, then it goes with the other non biodegradable waste. 
      4. Other General Wastes
Lash trays and sharps should be placed in a puncture-proof container to avoid accidents in garbage collecting. Biodegradable wastes such as food leftovers, crumpled papers, and plant- based trash should be in a compost pit. 
The key in proper waste management is to segregate wastes prior to disposing them. These wastes should be in color- coded bins for easy identification of waste management that will be implemented for each type of wastes. For chemicals and hazardous waste, the most informative guide on handling such chemicals would be the material or the product data safety sheet. The MSDS gives you complete information of the characteristics, toxicity, safety precautions, emergency response and the waste management of the product considering the kind of chemical present in its formulation.
Simple ways like repurposing materials to reduce waste generation and segregating your lash salon wastes can go a long way in your efforts of strengthening sustainability within your business operation. As a professional, it is part of your ethical standards to uphold high regards for respect and care- to your lash clients and to your environment.