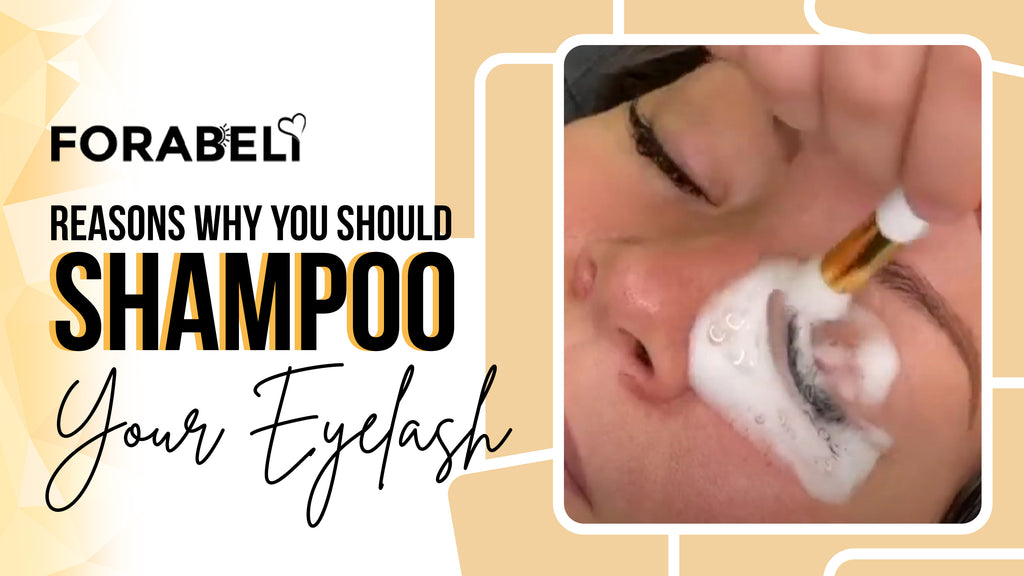 #1 YOUR EYELASHES ARE DEBRIS CATCHER
Our eyelashes act as dust collectors, preventing material from obstructing vision or causing illness or harm to the eye. Eyelashes are sensitive, akin to the whiskers of a cat. Our eyelashes act as sensors for items that come close to our eyes, such as insects, and they cause a reflex and protective blink.
Did you know that oils, dead skin, grime, and makeup buildup on your eyelashes will accelerate early shedding and can cause the eyelash adhesive to break down? Your lashes, like your extensions, are designed to catch particles and shield your eyes from impurities and harsh pollution. So make sure you're getting rid of these contaminants by using a trusted brand of lash shampoo that gives you a defense against these harmful radicals. What happens if you don't follow through? Read on.
#2 YOUR EYES ARE PRONE TO IRRITATION AND MITES
Would you believe that dirty eyelashes are one of the causes of eye irritation? Eye irritation describes how you uncomfortably feel when anything bothers your eyes or the area around them.



Red, watery and itchy, these are probably signs of allergies. Image source: https://tinyurl.com/ykejan3r


While the symptoms may be identical, eye discomfort can be caused by a variety of factors. The following the some of the causes of eye irritation:



Slit lamp image of cylindrical eyelash dandruff. Image source: https://tinyurl.com/ykejan3r



Flaking eyelids are referred to as lash dandruff. However, it can be caused by a variety of conditions, including seborrheic dermatitis (yeast overgrowth), an allergy to eye makeup or eye cosmetics, Sjogren's syndrome (an autoimmune disease), psoriasis, or Blepharitis (a chronic inflammation caused by bacteria). If you have these symptoms, you should see an ophthalmologist.

Demodex mites infestation in the eyelash. Image source: https://tinyurl.com/2p8k4fja


Microscopic and invisible to the naked eye, Demodex mites are two kinds of eyelash mites with two different types: Demodex folliculorum and Demodex brevis. These mites are present and feed on dead skin cells in your hair follicles. Although everyone carries a small amount of these mites, they can nevertheless be passed from person to person or animal to animal through intimate contact. In huge numbers, the mites can become a concern, resulting in further skin problems like itching, scaly, rough patches of skin, redness around the eyes, burning sensation in your eyes, and eczema. They can also make pre-existing skin conditions worse.
Aside from that, allergens can also become lodged between the eyelashes, causing inflammation and discomfort. Although allergy season is unavoidable, there are a few things that may be done to make the eyes comfortable while enjoying the days of season. Keeping the eyes, the eyelids and eyelashes cleansing is one of the greatest strategies to manage allergy symptoms. Just like your body, your eyelashes also need proper care to avoid these harmful scenarios. You wouldn't want any of the above mentioned conditions to happen to your eyes and lashes, would you? That is why it is recommended to regularly cleanse your lashes with a tested brand of lash shampoo.


#3 PROPER CLEANSING STRENGTHENS EYELASHES AND ADHESIVE BONDING
Impurities composed of harsh chemicals present in various make-up and oils products can damage and cause brittle eyelash extensions plus it can peel off the bond between the natural eyelash and artificial lashes. 
Aside from that, some women who already have eyelash extensions have been using baby shampoo to cleanse their lashes because it's mild for the skin. Take note that baby shampoos can contain ingredients such as fragrance, artificial coloring and mineral oils that overtime, and with prolonged use, will break down the strength of the adhesive, causing lashes to have a shorter life span. In short, baby shampoos are not formulated for your eyelashes!
Without proper eyelash cleansing and improper selection of products, your eyelashes are compromised. If you have the choice and have the opportunity to talk to your lash artist, choose the same brand of eyelash extension, adhesive and lash shampoo and other products that come under the same company because these solutions are specially formulated to complement each other. Just like McDonald's Big Mac burger which is best paired with their own French fries, nuggets, chicken with a cup of iced soda. These products suit each other under one umbrella. Ask your friendly lash technician to use the same bundle of products on your lash session so that it will not weaken your eyelash but strengthen the bonding of your eyelash extension.
Why is it recommended that you use a professional lash shampoo that will nurture, deep clean, and protect and prevent your natural lashes from falling off?  Lash shampoo that is professionally formulated rinses entirely and does not leave a residue on your lashes. Plus, it has carefully studied special ingredients that care for your lash hairs that will deeply nourish and prevent natural lash fall. Be careful of buying regular makeup removers that claim to be lash-friendly. A good lash shampoo will have a minimal sulfate concentration, which means it won't strip your extensions of moisture or damage the connection. 
What's in a professional lash cleanser that can help maintain your lashes healthy and strong? 
To keep your lash extensions in good shape, clean, and long-lasting, use a gentle lash shampoo which is clinically tested and contains natural ingredients. Pro-tip: a good choice of lash shampoo should contain natural plant ingredients that will not harm your skin, natural lashes,lash adhesive, and eyelash extensions. Using natural and organic formulated lash shampoos can avoid skin irritation unlike non-organic and non-natural products. Natural and organic care products have stood the test of time. Many of the substances used in modern organic products have been used for years, and were created from traditional medicines known for their wonderful skin benefits. There is no better test than time, and these natural plant chemicals have established their usefulness and demonstrated that they have no negative side effects, ensuring healthy and attractive skin. Check the label of your lash shampoo, if it contains doubtful and harmful ingredients, throw it in the bin and search for a new one that is carefully studied and specially formulated for your eyelash extensions.
HOW TO TAKE CARE OF YOUR PRECIOUS EYELASHES?
After learning the WHY of cleaning our lashes, let's now learn the HOW to clean your eyelashes. 
Regular and gentle cleansing of your face, especially the eye area, before going to bed every night is the key to preserving healthy lashes. Ooops! Be careful of lash shampoos that you pick, you might just resort to what is accessible to you like baby wipes, tissue, and baby shampoo (not again!)
To remove debris and makeup, nurturing the eyelashes is easy as 1,2,3! Here are some easy steps…
Look for

lash shampoos

that are specifically advised for eyes. Since the eyes are a sensitive part of the body, it is advisable to gently clean the eyes with a cotton patch and

lash shampoo

.
In order to prevent lash fall, when applying makeup or taking it off at the end of the day, be careful not to pull on your lashes too much. 
Eyelash cleansing

before bedtime is crucial, just as applying a night lotion or serum to your face. If you are a bit timid to clean your eyelashes with

lash shampoo

and other maintenance, a regular visit to your favorite lash technician would keep your lashes more nourished.
WHAT'S BEST FOR YOUR EYELASH CLEANSING?
Eyelash cleansing is not just about using a regular soap, baby wash, or any regular lash shampoo. You need a professionally made lash shampoo that will cater to your specific needs.
Why should you use a professionally made lash shampoo? Not just a random soap or baby wash but we mean a professionally formulated lash shampoo.

The Forabeli Beauty Eyelash Shampoo kit. Image source: https://tinyurl.com/3h7j74ec
The good news is, if you are looking for eyelash care products, Forabeli Beauty has curated a specifically designed formula that addresses your lash needs and one of its most sought after essentials is the lash shampoo.



The six plants which are the key ingredients of Forabeli Lash Shampoo.


What's unique about Forabeli Lash Shampoo? 
Forabeli Lash Shampoo contains six plant extracts namely; green tea, purslane, rosemary, gingko biloba, ceylon cinnamon and hinoki cypress that aid in the growth and keeping of healthy eyelashes. It aids in the restoration of eyelashes and protects them from harmful elements. These organic ingredients are commonly used in traditional medicines and proven to be safe for the skin. 
Forabeli Lash Shampoo is designed to effortlessly remove built-up oil and dead skin cells. It removes dirt, tiny particles, and cosmetic remnants of all kinds. It improves eyelid recuperation after a stressful stick and refines and extends the life of eyelash extensions to perfection. 
Forabeli Lash Shampoo is paraben-free, non-irritant, non-burning shampoo for salon and home usage. Forabeli's enhanced formula is both animal and vegan-friendly, so it's made to the highest of standards. 
With Forabeli Lash Shampoo for Lash Extensions, you can have a lovely fuller look for as long as you like. Forabeli's Eyelash Shampoo has the highest dual effect mechanism for washing and healing, thanks to time spent in research and testing.
 
EYELASH GROOMING: A Medical Perspective
According to an article which is medically reviewed by Cynthia Cobb, DNP, APRN, WHNP-BC, FAANP in Healthline.com, proper eyelash care can increase the health of your lashes and reduce the likelihood of them breaking. This might give them the appearance of being longer and thicker. This claim is also backed-up by an article medically reviewed by Whitney Seltman, OD on July 09, 2020. Seltman suggests that keeping yourself and your environment clean is the finest thing you can do. You can accomplish this by washing your body with effective cleansers and lash shampoo every day. You can also use hot water to wash your linens and dry them on high heat.
According to Coblo's reviewed article, the following are some eyelash grooming suggestions:


1. Taking off your eye makeup at the end of the day.
The Forabeli Lash Shampoo up-close. Taking off your makeup lets your skin breathe thus washing away the skin impurities including eyelash dandruffs keeps your face in good shape. Forabeli Lash Shampoo cleans eyelashes from roots to tips making the eyelashes healthy and free from dirt and other elements.
Comparison of other lash shampoo products vs. Forabeli Lash Shampoo. 
Image source: https://tinyurl.com/3h7j74ec



2. Brushing your lashes using an eyelash brush on a daily basis. 


The Forabeli Brush Tools. When you purchase a Forabeli Lash Shampoo, it comes with the necessary tools that you need for your eyelash cleansing. Brushes are carefully packed along with a bottle of lash shampoo. Regular use of these brush tools drives away particles, debris, makeup, flaking and dead skin which Demodex mites thrive on. To kill the bacteria, don't forget to regularly sanitize your brushes before and after use.


Forabeli Lash Shampoo comes with fiber and spiral brush for ultimate lash clean up.  
Image source: https://tinyurl.com/3h7j74ec


3. Every day, wash your face and eyelashes with a gentle lash shampoo.


Forabeli is safe for all skin types.
Forabeli Lash Shampoo
is dermatologically tested. A clinical study conducted by OATC Skin Clinical Trial Center to 32 Korean respondents in the year 2020 in Seoul, South Korea found out that Forabeli
lash shampoo
is non irritant, safe to various skin types, and no human health hazard.


Forabeli lash Shampoo is non-irritant, hypoallergenic, dermatologically tested.  
Image source: https://tinyurl.com/3h7j74ec


TESTIMONIALS AND PRODUCT DEMONSTRATIONS 
As consumers, we are a bit hesitant to buy new products that we haven't seen and tested right? Sometimes we have these doubts if the product is actually efficient and will work for us. That is why, we constantly scour for reviews from previous clients who have already purchased and tried the actual product. This serves as our gauge if we are going to buy or not. 
Who are the people who have something to say about the Forabeli Lash Shampoo? We have gathered some unboxing videos, testimonials and impressions on this most talked about lash shampoo. First thing first, what you'll get once you purchase this product? What's inside the Forabeli Lash Shampoo box? Watch this video:  https://tinyurl.com/2p844fn8 




Youtube Marleenz of Marleenz Beauty Lounge talks about her on-hand Forabeli Lash Shampoo on her Youtube video. Image source:  https://tinyurl.com/y6fax8f9


For clients who haven't purchased, check out how the Forabeli Lash Shampoo unfolds by watching Youtuber Marleenz of Marleenz Beauty Lounge Bar. She has created a detailed demonstration and impression video on Youtube. You can watch her video through https://tinyurl.com/y6fax8f9
Youtuber and blogger Grace Marie graciously shares her experience using Forabeli Lash Shampoo. Image source: https://tinyurl.com/33nzwth6. 


Also, Youtuber and Blogger Grace Marie shared her experience and even tried using the Forabeli Lash Shampoo on her lash bath. Her video is making rounds on the internet and available via https://tinyurl.com/33nzwth6. 


Soy_laluna on Youtube detailing her experience using Forabeli Beauty products
An honest review and actual use of Forabeli Lash Shampoo on her client was also filmed by Soy La Luna of Luna's Beauty Bar in her video which is made available at https://tinyurl.com/24a6behf She even challenged her subscribers to suggest some eyelash extension products that they would want her to be tried and reviewed.


Lash artist Jordan Blair shares her techniques in making her lashes clean and fresh using Forabeli Lash Shampoo. Image source:https://tinyurl.com/mr46ty75 


Experiend lash artist Jordan Blair has showcased her secrets on how to make her lashes nourished using Forabeli Lash Shampoo. Hear her story by watching her video through this link: https://tinyurl.com/ycx2f35k. After constant use of Forabeli Lash Shampoo on her lash sessions, the product got a 5 star rating from her and she went back to make another impression. Read on her statement and check out more client reviews and ratings in Amazon through this link: https://tinyurl.com/2p94uxrn 


Arizona Lash Artist and Cosmetologist Jordan Blair writes her review on Forabeli Lash Shampoo. Image source: https://tinyurl.com/2p94uxrn


Would these testimonials suffice your curiosity about Forabeli Lash Shampoo? Aside from Forabeli Lash Shampoo, the company also has numerous product reviews on the internet. These include various Forabeli variants of eyelash extension glues and solutions. You can watch Marina Yamanouchi's review on Forabeli Beauty eyelash adhesive via https://tinyurl.com/2p94uxrn, Cynthis Lee's product reviews at https://tinyurl.com/3u9eusfu, Velma Lee's Glue review at https://tinyurl.com/4rhemzpc, Loft Lashes by Jojo's Elite Glue review at https://tinyurl.com/t2m3mkac, and Motivated Cosmetologist's eyelash Glue review at https://tinyurl.com/32xkar2y among others. 
CONCLUSION
There are many factors that contribute to unhealthy eyelashes because lashes keep dirt and bacteria off of the eyes and surrounding skin, physical and health hazards might increase if they are not properly cared for. A correct hygienic management which includes face-washing, and cosmetics application practices can all help you obtain healthy eyelashes. Lashes shampoo is readily available in the market and can be purchased over-the-counter. One of which is the Forabeli Lash Shampoo.
Forabeli Lash Shampoo, a clinically tested and specially formulated lash shampoo, is proven to be safe and removes cosmetics, flaking, bacteria build up, and other eye irritants causing lash growth to be restricted and flaking to occur. With proper use, eyelashes can grow healthy and in good shape. It is advised that each night before bedtime, thoroughly cleanse the eye area with specially formulated Forabeli lash shampoo. 
For soon to be customers who are looking for assurance and planning to buy the lash shampoo, the Forabeli Lash Shampoo has also been reviewed by a number of people and made their impressions and testimonials which is readily available on various social media platforms including Facebook, Youtube, Amazon, Instagram, Pinterest, and Tiktok. 
THE FORABELI BEAUTY PROMISE
Forabeli products are 100% customer satisfaction guarantee. Forabeli ensures a replacement or your money back - no gimmicks, no hassles! Forabeli is fair and reasonable in dealings with its valued clients. Given the above mentioned client care, Forabeli has also been generous to its buyers by offering season promos! To become updated, all you have to do is to tune in to the company's various social media handles.
With Forabeli, beautiful sets of eyelashes are just a blink away! Visit your favorite lash artist and ask about Forabeli products.
Love reading? Check out the following article references cited on this blog.
References:
⦿  Sheda, A. (2021, December 1) 10 Simple Treatments for Dandruff on Eyelashes and Eyebrows  https://tinyurl.com/3a83daut

⦿  How to Clean Eyelash Extensions the Right Way. (2021, October 26) https://tinyurl.com/yckwvezu
⦿  Why You Should Clean Your Lashes. (2020, January 29). Flutter Lash and Beauty Studio.  https://tinyurl.com/yp9xcsmn
⦿  Salomon, M..(2020, July 9)  Eyelash Mites Causes and Treatments.  https://tinyurl.com/2p9xcfax
⦿  Cherney, K. (July 24, 2019) Demodex folliculorum: What You Should Know https://tinyurl.com/mvjs7kfd 
⦿  Eyelash Mites: What to Know.(2018, December 19). Healthline. https://tinyurl.com/2p85h58x
⦿ Why Clients Should use Professional Lash Cleanser and not Baby Shampoo (2018, April 27) . https://tinyurl.com/2h8cnsk5

⦿ The Importance of Daily Ocular Hygiene for Everyone. (2020, June 28).  https://tinyurl.com/y5bks6f2
⦿  How to Get Longer Eyelashes. (2017, May 18)  https://tinyurl.com/39wpkjys
⦿  Wilson, J. (2016, February 19). How to Take Care of Your Eyelashes Because You Really Should.  https://tinyurl.com/2urz4r36
⦿  The Importance of Lashes and Eyebrows. (undated) Georgia Eye Associates. https://tinyurl.com/ms6meuvb

⦿  Lash Shampoo for Eyelash Extensions I Forabeli. (undated) https://tinyurl.com/3h7j74ec