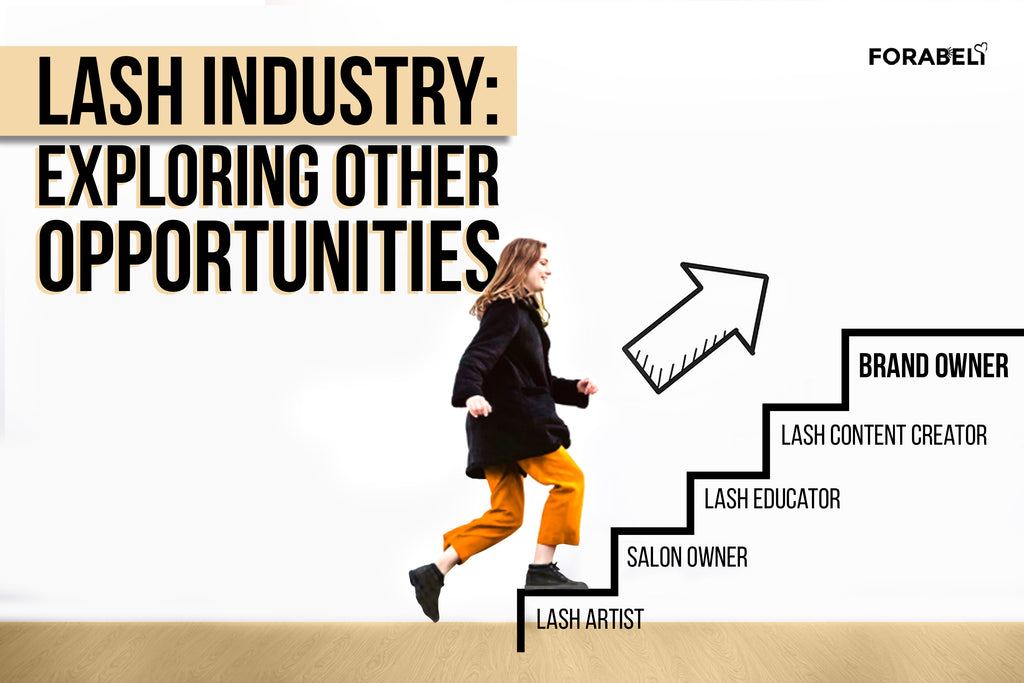 Becoming a lash artist is probably a dream come true for you. You've spent your hard earned money, time and commitment to learn, train and master the profession. And that amazing service you provide to your lash clients is not only a rewarding job but is also providing for the income you need.   
Now the good news is opportunities in the lashing industry do not end in making eyelash curls. The eyelash extension industry is a vast hall with many rooms for career growth. The global lash extension market should benefit from rising fashion trends and a heightened focus on aesthetics. With the right kind of training, you can add to the menu other services that you can offer like lash lift and lash perm.
In this article, we will enumerate some of the opportunities being mostly ventured nowadays aside from being a lash technician. 
EYELASH EDUCATOR
The skills you garnered from the trainings and trades shows you've attended and years of experience in doing different kinds and styles of eyelash extensions employing different techniques can be your ticket to another opportunity in the lash industry such as advancing to being a lash educator or trainer.
Many individuals aspire to learn the skill and become lash artists and becoming a lash trainer is one great opportunity to share your knowledge and experience, help others to finally achieve their dreams and earn extra and even higher income.
However, you will require approval from the relevant regulatory body in your area before you can start providing the training. To become an approved lash instructor or trainer, you must comply with the specific requirements of your country or state.
SALON OWNER
Managing your own business is another opportunity one can consider. However, running a business entails a whole different story and requires skills and knowledge more than pampering eyelashes.
In managing your own salon, you need to learn new sets of skills such as marketing, bookkeeping and even HR matters. The whole owning a business stuff is a challenging one and will not only demand time, effort but most specially, your commitment to make everything work from what your lash salon would look up to running the day-to-day operation which will surely rob you away of your time to do the actual lash jobs.
LASH CONTENT CREATOR
Social media and the digital space have been phenomenal breakthroughs in marketing businesses and showcasing skills and services. Making valuable social media and digital content such us video tutorials, blogs and social media posts can be a good stream of money. 
Lashing and aesthetic businesses are always looking for contributions, whether it be in the form of writing, shooting images, or making films online or in hard copies. A lash business can hire you as a copywriter to create product descriptions, advertisements, and other marketing collateral.
Being a content creator can start off freelancing or something that you do on your vacant time for extra income. And then, it could go big time by building your own website or social media page lash enthusiasts and other business go to for collaborations or hiring you to be part of the corporate team. This opportunity is enticing especially those lash professionals who have other skills and passion such as in writing, photography or video blogging or more commonly known as vlogging. Social media platforms, nowadays, have many ways of monetizing your content.
WHOLESALER OR PRIVATE LABEL
As a certified lash artist, you have come across and tried many lash extensions products and have already listed quite few brands that really caught your attention in terms of quality, service and pricing. Knowing the right brand, that is a proven and tested, is a good place to start your resell or wholesale business.
Selling wholesale lash extension products to salons and even to individual lash technicians produces good ROI. You can make the most money by selling the leftover inventory from your wholesale business at your store if you also run a private label or a salon.
Final Thoughts…
 At some point in your career life, you would want to do something different. It turns out that for some people it's about following their heart's desire, while for others it's just about seeing what's out there. Good thing the Lash industry is one such niche that offers you a possibility to do both.
 In the end, the key to being limitless and discovering spectacular things you can do is being fearless. As the old adage goes, "Everything you dreamed of is just on the other side of fear."