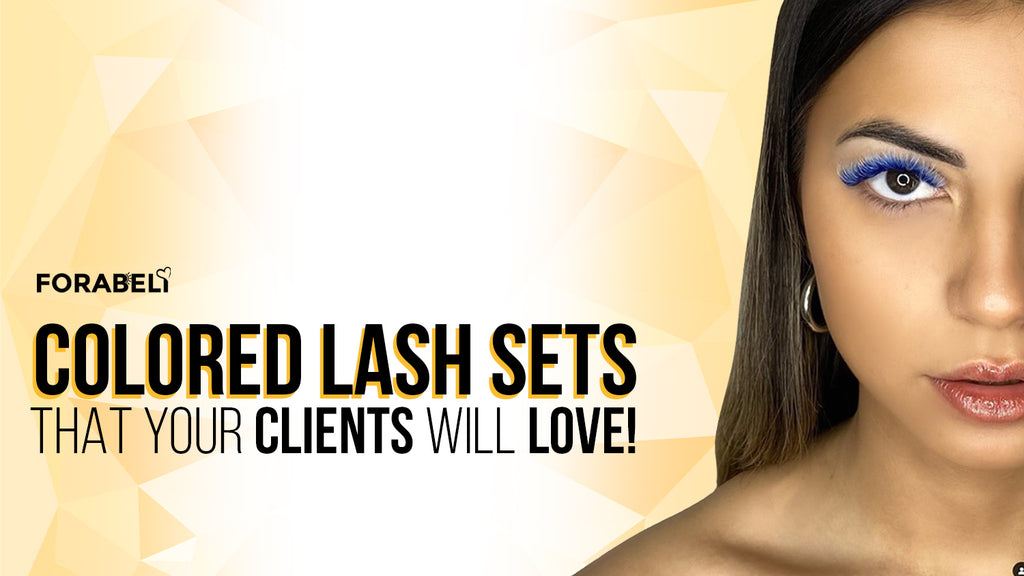 The world isn't just one palette. It's a beautiful rainbow! Let colored eyelash extensions transform your daily life! Check out this list of how colored lashes can make your life more lively!
COLORED LASH SETS THAT YOUR CLIENTS WILL LOVE!
Life is boring to wear it with only black. Make it more lively by splashing the lashes with a pop of color and witness how life will turn around! Once you see how it changes, there's no turning back!
We've scoured Instagram and found the hottest trendy lashes that most of the lash artists are crafting today. Check out these numerous reasons why your clients should wear colored lashes now!
1. Colored Eyelash Extension Enhances Eye Color
The first advantage of colored lashes is that it is meant to complement the
natural eye color and shape even
better than ordinary
lash extensions
. Colored lashes also let the eyes express itself; the small pops of color results in a flirtier and sexier look.
These calming Blue Peekaboo lashes are for individuals who are seeking self-expression and exhilaration. The color blue conveys importance, confidence, and influence without evoking gloomy or dark feelings. If an empowered woman wants to gather the crowd and listen to her, she shall take note of the Blue Peekaboo! 
The friendly lash artists, namely beautyunliketherest, lashlady_studio, and looks.byy.lex on Instagram can 100% definitely pull this look!
2. Colored Eyelash Extension Gives you a Dramatic Blink
Traditional falsies don't seem as natural as lash extensions while colored lash extensions add meaning and personality to the overall look. If a client loves drama or any emotion that wants to communicate, there is no need to utter words because this selection of wispy eyelashes can do it for them. The longer the lashes, the more expressive the eyes will be. Choose from cat-eye, squirrel eye, doll eye, hybrid, volume, mega volume, and streaks of color, a client can never go wrong with the given options! The possibilities are endless!
This Lash Extraordinaire pick is so extra with its uniqueness. The friendly lash artist can give a unique dramatic look by combining two or more colors or by putting the lash extensions on the inner or outer lashes or even equally scattered positions. If your client opts for more hype-colored lashes, take a reference on some of their inspirations like Hollywood celebrities, or give they're alter persona a voice through your lashes. You'll be surprised by their wild ideas!
It's a worth visit to lash artists namely twilightzonebeauty and westcoastesthetics for these extraordinary lashes!
3. Bejeweled lashes are a Statement
From the red carpet to fashion runways, it's clear that this year is all about the fabulous eyes. Glitter, dazzling makeup, embellished features and colored lashes are all the rage these days.
To add to the drama, add some bejeweled rhinestones, lash decals, or glitter lashes to the inner or outer corners of the eyes to achieve that magnificent look. Lace a dot of latex-free lash adhesive on the rhinestones and wait for it to get tacky and stick it to the corner of the eyes and your client is good to go. If the client is not ready to go for it, start with a metallic glitter shadow or a strong eyeshadow tone to incorporate this trend into their daily makeup looks.
The experts on this glitzy look are lashezbymadz, niaxlashes and tinkswinklashes on Instagram. Wink-worthy lashes that only brilliant lash artists can give!
4. Noticeable and Stylish Makeup Look that only Colored Lashes can offer
A triad of the brilliantly colored liner, a palette of eyeshadows, and fluttery lash extensions can make a huge impact. Pairing the eyelash extensions with makeup is definitely a spectacular scene-stealing act.
 Advise your client to surprise her friends or co-workers with an outrageous makeup and the amazement will follow. This is a fun way to break the monotony of a daily look. If the client is planning to host an event and wants all eyes on her, the mesmerizing lash n' makeup should be the highlight on the list!
beautyby_dmarie has already proven this spectacular combo of lashes and makeup. With this ensemble, a client will love the outcome of the finale look!
5. A Unique look that Mascara can't give
No need for mascara on extensions since it will limit the lash extensions' lifespan, cause clumping, and make the glue break down. If your client can't get away with the mascara, advise her to use it on the bottom lashes.
With lash extensions, there will be no more smudging, smearing, or flaking mascara. Eyeliners and eye shadows can still be used as usual, as long as they aren't waterproof or liquid, as all these substances will dissolve the lash adhesives. Mascara is not advised since it will break down the glue, clump up the extensions, and cause it to come off earlier than anticipated.
6. Colored Lashes Matches outfits
With a pair of vivid blue extensions, a woman can pump up the look in an all-black ensemble.
Deep blue or electric blue lashes are so noticeable that it can captivate anyone who'll stare someone in the eyes. Blue is generally associated with intelligence, stability, unity, and conservatism, and is considered a highly corporate hue.
Blue is a masculine hue, and studies show that it is well-liked by men. Dark blue is a favorite color for corporate America because it represents depth, knowledge, and stability. So if a woman has a seat power, this one is the best choice!
A client may sport these blue lashes by booking an appointment with the lash experts possefiftyseven and high.sugar,lashes. We assure that with its quality, there is no regret in every lash strand! Go visit their Instagram!
7. Match Colored Lashes with your Hair Color
If a client considers adding some colorful hair extensions, the match is colored lash extensions that give a more toned-down look. This lash extension is so suitable for daily looks for many trendsetters, yet it still places the person at the forefront of this new style.
Rainbow or ombre fairy lash extensions reflect a bright individuality and sense of flair. If a client is attending festivals or joyous gatherings, these lashes are the top choice!
Pro-tip: Only inkandblinkstudio and snaddonsashalexandrea can make these colored lash extensions stand out and work based on clients' bubbly personalities! A colored lash extension that only lash masters can perfectly make!
8. Trendsetting? Colored Lashes are on Your Side!
Have you tried neon lashes before? It's the most wanted lashes glow-in-the-dark lash extension right now! Party with a glow-in-the-dark lashes and surely, you'll become the center of attraction. Aside from that, rainbow lashes are a sure win for a variety of attire.
A rainbow is a symbol of hope and the promise of better days ahead. So if you are holding on to that, sporting these lashes are a great way to manifest your intention.
sabsfabbeautylab is the only lash artist that can expertly make these lashes truly amazing! 
9. Pick your Favorite Color and Stand out among the Crowd 
Why blend into the crowd if a woman can stand out? Whether a client is going for the latest mermaid or unicorn lash trend or just a subtle enhancement, colored eyelashes are guaranteed to have the splashes of color they are seeking.
These fluttery pink lash extensions are a craze for the girly persona. Pink is the official color of women, and it symbolizes candy, spice, and all things nice. The color pink is the more feminine counterpart of the color red. So if a client is passionate about pink and so religious about this color, the above pictures are your client's guide for regular weekly or monthly lash visits!
Lash artists niaxlashes, jade. aesthetics. spa, alexandraaesthetics_, thebeautychamber1, flawlessaestheticsbysamantha, and lashesbyclarina are the exceptional masters on these pink powerful lashes!
10. Neutral Color Suits any Occasion 
Does the client have a special occasion approaching? Does a client want to try something new and exciting? At their next appointment, try introducing some neutral shades on their lash extensions! To fit a special occasion, theme, or festivities, there are a range of colors to pick from but for a more classy but Cruella De Ville look, black and white is the right choice. Colored eyelash extensions are a fun approach to bolster the lash game, whether a client want to accentuate any eye color or stand out at a party, colored lash extensions will always be a good choice but if we are talking about shades, the black and white lash extensions are for clients who are imposing their power through lashes. If the celebration is St. Patrick's Day, everyone wears green, so your clients' eyelashes can be but if the spooky Halloween comes in, the black and whites is the best choice for the occasion.
Black and white lashes or better known as salt n' pepper lashes are two opposite shades into a set of a lash extension. Black and white exudes the message of smart and bold, decisive and sharp, tailored and sophisticated, and it makes most women desire to dress in black and white, thus, wearing salt n' pepper lashes is a fitting answer to a classic look!
Take a route to the lash salons of mobb_beauty, possefiftyseven and niaxlashes. They are very much accommodating to give a regal black and white lashes to every client!
Final Thoughts
If your client wants to make your eyes appear bigger, lash extensions are the way to go, but ordinary extensions don't always go far enough. Colored lash extensions make the eyes pop even more than natural lashes, allowing to be noticed by the crowd. If your client is a trendsetter, this latest beauty craze is a hook!
Colored lash extensions come in a wide range of tones, from vibrant to subdued. It can be used to bring out the color of the eyes in the same way that eyeshadow does. The client can have extensions made to match and highlight the eyes. For example, purple-colored lash extensions are best for green eyes, green lashes are best for brown eyes, and blue lashes are best for blue eyes. A client can even sport all the rainbow colors!
As a lash artist, you'll likely spend a little more time in the studio than usual. Apart from traditional black lashes, colored lashes necessitate a little more attention and creativity in positioning. We urge our customers to allow for 30 extra minutes for a colored lash appointment since creating symmetry on both eyes is vital; it's an art.
Colored lashes do more than just enhance eye color. It also gives the eyes dimension and allows them to express a character. It also has all of the benefits of typical extensions, such as boosting the volume and length of your lashes and eliminating the need for regular use of eye makeup. 
Of course, the above-mentioned lashes cannot be achieved without the use of premium lash products that will give a high-end result that a client deserves. If you are a lash artist, we advise that you regularly post your lash works on Instagram, it's a fun way to market your services and if you are a client reading this blog, book an appointment now with the above mentioned lash artists and transform your life with colored lash extensions!
Acknowledgement
We would like to extend our deepest appreciation to all the lash artists for their photos featured on this blog. We credit them as the rightful owners of these amazing lash photos sourced from their Instagram profiles. 
By following their accounts, liking and sharing their works to various social media platforms and patronizing their valued lash services is a form of encouragement to the community of lash artists. By giving them the much needed support, you too can be a contributing factor to attain this advocacy. With this, we can help sustain their businesses and allow them to prosper more in the lash industry. 
We wish our lash artists and lash salon owners more success!
CONTINUE OUR CONVERSATION!
We would love to know your thoughts! Let us know your comments, suggestions or possibly ideas that you want to add on this list.  Send us a message in the comment section and we'll keep in touch with you! We look forward to a meaningful conversation.